Insights from the first year of online C++ job fairs
published at 10.02.2022 18:46 by Jens Weller
Save to Instapaper Pocket
An overview on the first year of organizing online job fairs for the C++ community.
In 2021 Meeting C++ organized 4 online job fairs, with the first starting mid March, followed by May, September and November. The very first online job fair was in October 2020, to test the concept of an online fair that would utilize an event platform not to stream or consume content, but to offer a space where the community can meet up and connect. Today Meeting C++ online offers fairs on jobs and books & tooling. With the next job fair being on March 15th, and the first tool & book fair in 2022 is next week.
For interested employers its best to sign up early to the job fairs, if you have any questions about hiring with Meeting C++ you can reach me via LinkedIn, Xing or email (info@mee ... cpp.com).
One of my motivations to try to offer an online event for hiring C++ devs, was hearing from both sides of the problem for years. While employers like to complain about that good C++ devs are so hard to find, the devs complain about being cold called/mailed by too many head hunters looking for devs. Often its not even a good fit, after all why should a C++ dev not be interested in a position as a java backend engineer?
Meeting C++ focused in 2021 on improving and enhancing the online hiring event as a means to offer a space for employers and job seekers to meet online. As working remote and from home has become more common, while events also moved online. Since the 2nd event in 2021 the job fair is split into an afternoon and an evening part on the following day. This enables more folks to plan their scheduling ahead, and allows to integrate a few more timezones better.
In 2021 a total of 245 candidates submitted their CV over the CV sharing form of Meeting C++. This is offered along side the event and also online between the events. It allows candidates to share their CV in front of the event, but is also often used from folks not able to attend the event it self. While most companies look international, the event mostly hosted european companies. In 2021 the candidates were mostly from Asia and Europe. But as this is a new concept for most companies and candidates a like, it will take some time to evolve. For 2021 in total 15 companies were at the event or in the employer listing of Meeting C++.
The CV sharing form is also what connects the employer listing with the job fair. The employer listing gives an employer visibility on the websites job section and the listing in the CV sharing form for one year. While the job fair offers the C++ community the chance to directly talk to employers and get a feel if its a fit or not. The employers at the fair and their number has a certain influence on the audience that visits the fair too.
All events have received good feedback from both sides. I do not have the best tracking, but know that at least two companies have hired out of the 15 I've worked with for this event last year. The 3rd and 4th event saw some companies returning to the event again.
Some insights about the candidates of 2021
Since the 2nd event in 2021 the CV sharing form also allows candidates to select from a list of C++ skills and fields of work. This allows employers a first overview, but one can also filter through the list of submissions with these for a certain position. The aggregate gives an insight into which skills and from which fields of work the C++ devs come.
Please note, that these graphs only contain data onward from the 2nd event in 2021 (187 from 245 submissions over all), and that some of the skills/fields were added for the 3rd event. I plan to extend them again for the first event in 2022.
C++ skills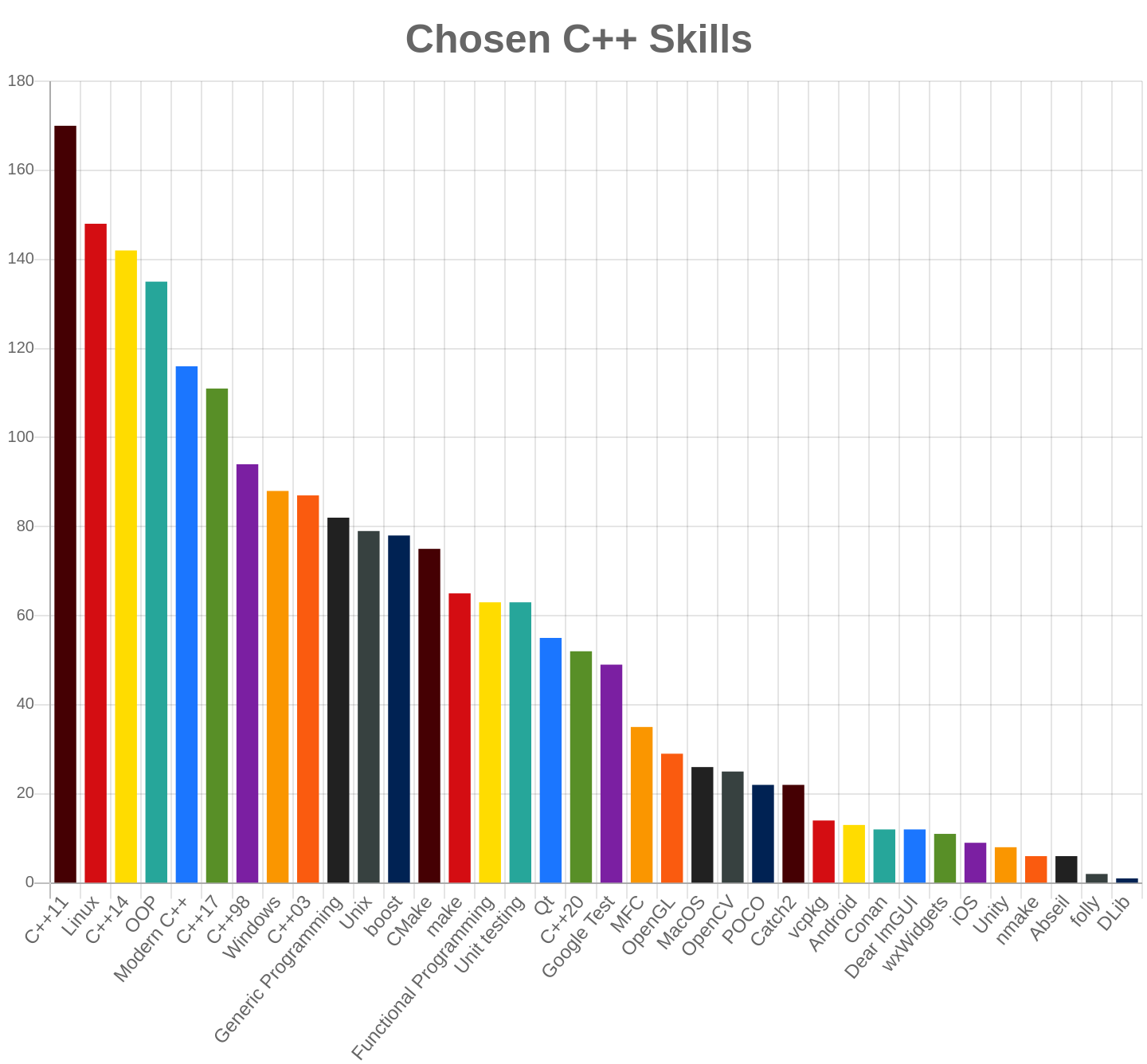 Its the nature of this form that more popular and more common skills are of course more often chosen. Thats why C++11, Linux, C++14, OOP and Modern C++ form the 5 leading skills here. But also one sees candidates chosing fewer while others chose more skill sets, e.g. minimizing or maxising this field. Both is a valid stragety. After all they do share their CV with all information too.
Fields of work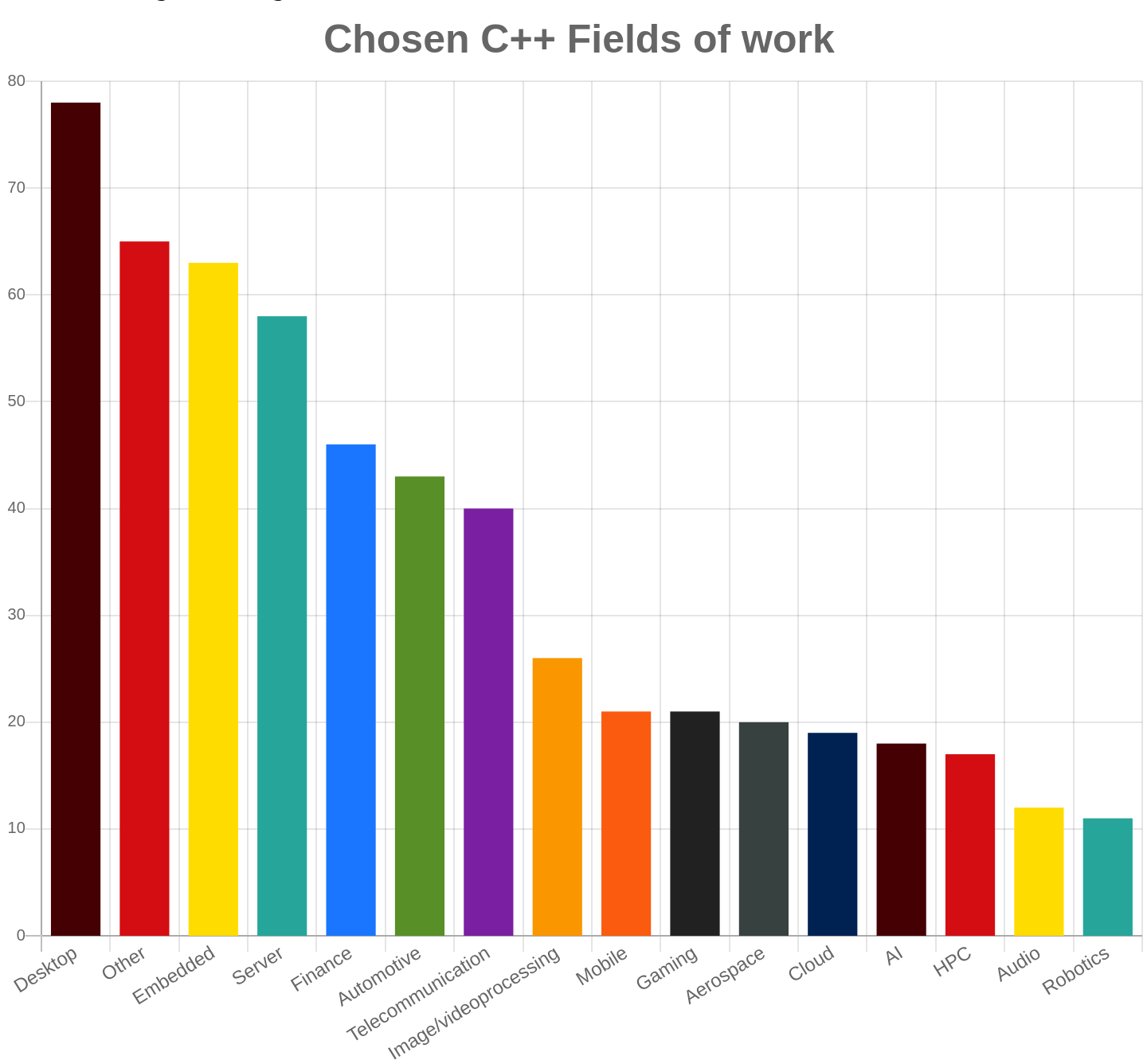 This lets me contemplate which fields might be missing, while also thinking that other is popular as it covers all smaller fields and that adds up. On the other hand it reflects from which fields we had candidates but also companies. Experience with Desktop seems quite common, while its followed by fields that employ many of us: embedded, server, finance and more.
Countries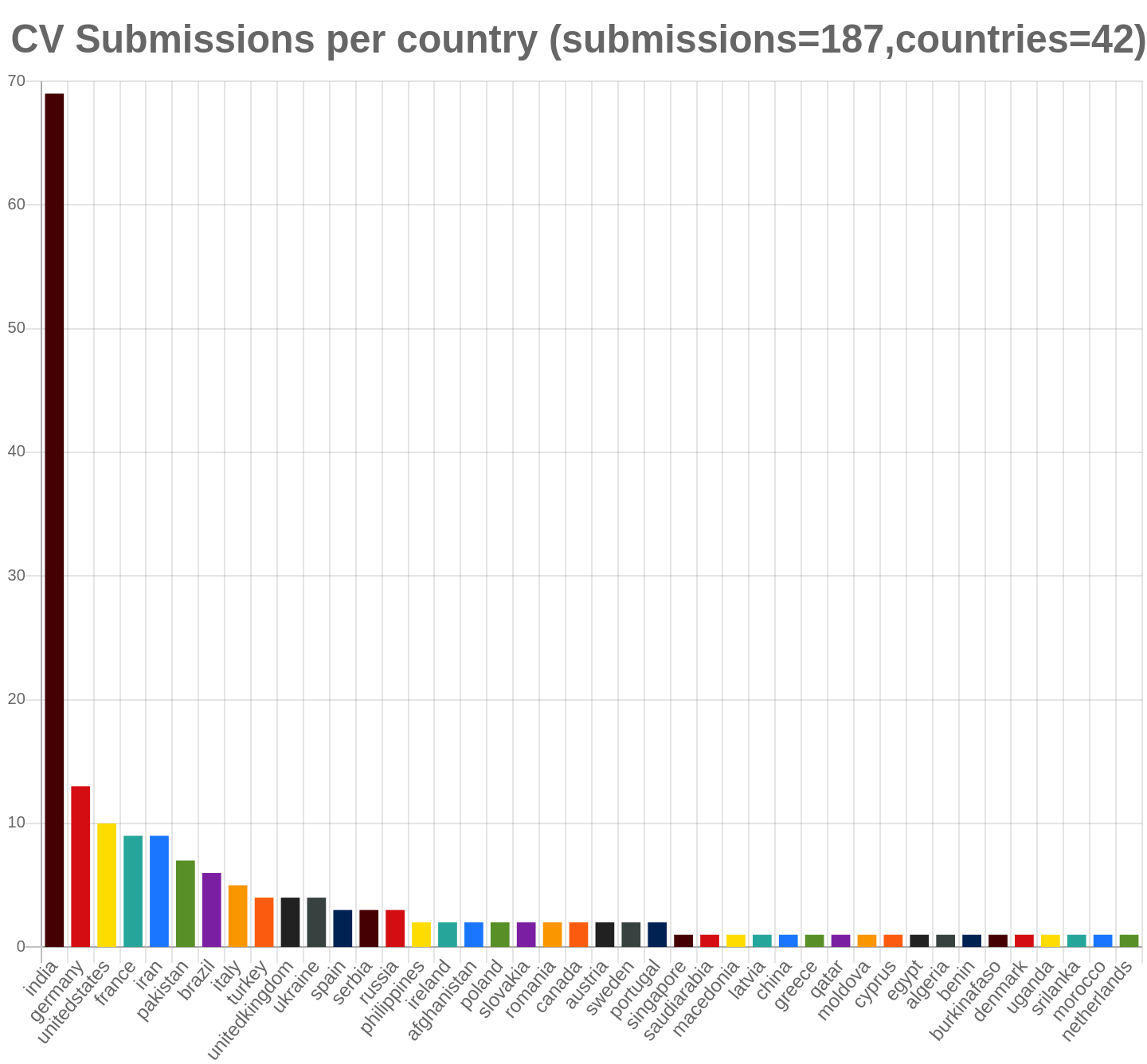 India has been the leading country at all events with many candidates being interested to work for C++ employers. Followed by a mix of european, asian and countries in the Americas. For 2022 I hope to attract more employers to offer a better fit for more candidates.
Years of experience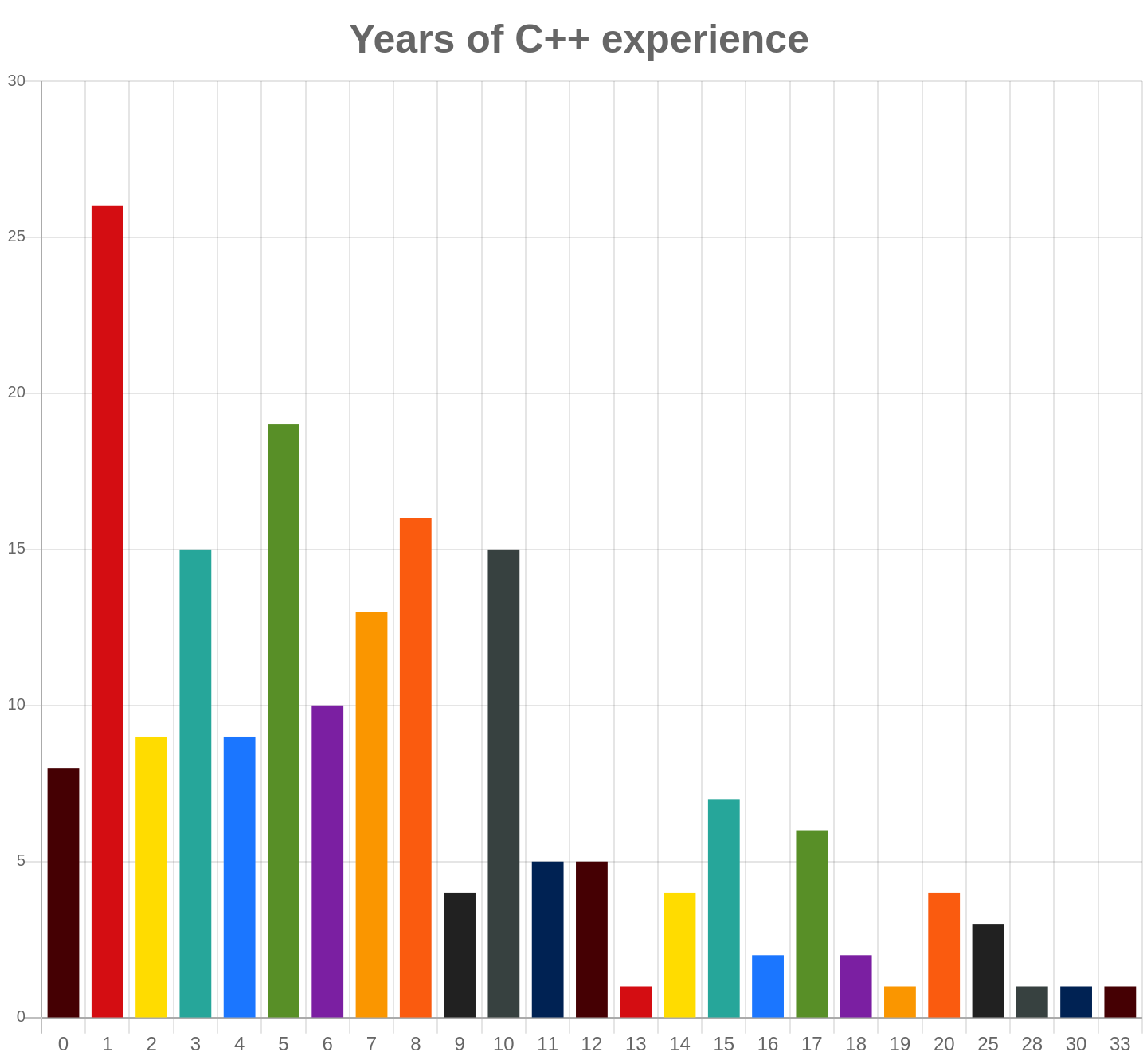 While this varies from event to event, its always a mix of beginners, experienced junior to very senior devs looking for new opportunities.
Looking ahead
2022 will feature 4 job fairs in March, April, September and October. The events focus on Spring/Fall, these have been the best received events in 2021. Like last year feedback from employers and attendees will guide the further direction for the hiring section at Meeting C++.
Join the Meeting C++ patreon community!
This and other posts on Meeting C++ are enabled by my supporters on patreon!