Join the online C++ job fair on the 16th and 17th November organized by Meeting C++. The job fair will start at 15:00 CET and go until 18:00 on November 16th, on November 17th the event will be in the evening from 20 - 23:00 CET. Companies can choose to be present on both or only one of these events, or to only receive CVs through Meeting C++.
The job fair is an online event where employers and C++ job seakers get to meet each other. Candidates get the chance to get a first feel of a potential employer, and can exchange contacts with those that they'd like to apply to. Employers should book their own table and be present with one or multiple staff.
Join the Meeting C++ online User Group for further details for the events. Link to the events will be shared here and on meetup close to the event start for attendees!
Interested in recruiting? Read more about the Meeting C++ recruiting services.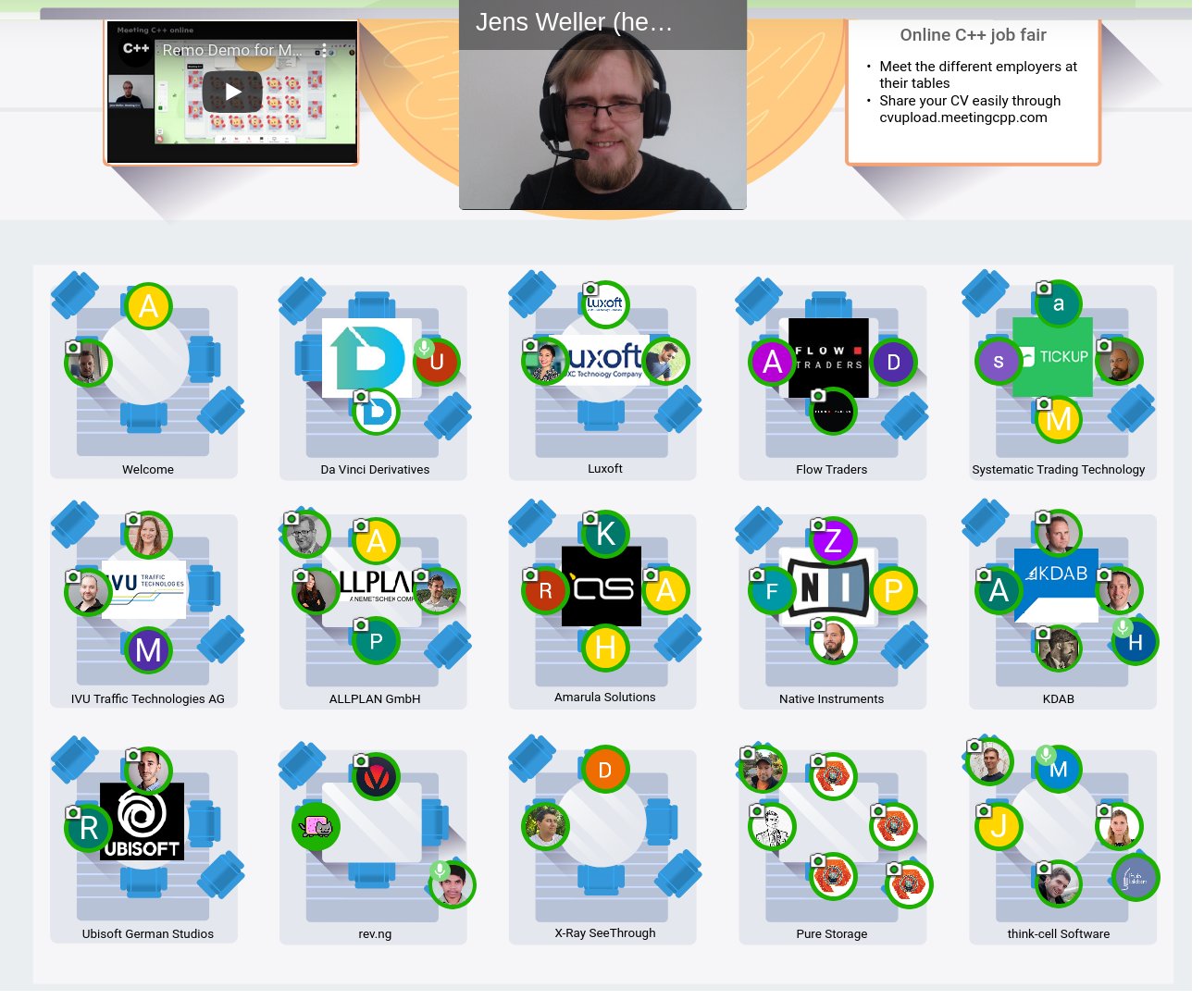 Employers should register for a sponsored table.
Join the job fair via this link
You can share your CV through the Meeting C++ upload form with the above employers
Zivid
Zivid about (Relocation: International / Remote: none)
As an Embedded Software Engineer at Zivid, you will work closely with software, FPGA, hardware, and machine vision engineers designing embedded software for the next generation 3D cameras. You will be working with embedded firmware in C and C++, real-time operating systems, network stacks, imaging sensors, drivers, and integration with FPGA and hardware.
Employers present with their own table
Guidelines during the job fair
Be friendly to everyone
Visit the tables of employers you are interested in
You can hang out at any table, maximum is 6 folks at one table.
About the online platform used
The event consists of a number of virtual rooms shown as graphics in its UI
Attendees are able to freely switch between these
Each room can be representing one potential employer
The event runs in the browser, no client software needed. Allow access to webcam and mic to communicate.
For employers
An employer should have a table named after their company
Employers must register for a sponsored table in the event.
Attendees will be able to find you at a table and start a video chat with you
Please book your table early!
For job seekers
The event is free to attend, bring your materials and chat to potential employers via video call or chat
No registration is needed, you can join any time and visit the different companies.
The link to the event will be visible in the Meetup Group and shared by Meeting C++ on social media
All events of Meeting C++ online are hosted under the Berlin Code of Conduct