Join the online C++ job fair on the 28th and 29th June organized by Meeting C++. The job fair will start at 15:00 CET and go until 18:00 on June 28th, on June 29th the event will be in the evening from 20 - 23:00 CET. Companies can choose to be present on both or only one of these events, or to only receive CVs through Meeting C++.
The job fair is an online event where employers and C++ job seekers get to meet each other. Candidates get the chance to get a first feel of a potential employer, and can exchange contacts with those that they'd like to apply to. Employers should book their own table and be present with one or multiple staff.
Join the Meeting C++ online User Group for further details for the events. Link to the events will be shared here and on meetup close to the event start for attendees!
If you have any questions about hiring with Meeting C++ please reach out via LinkedIn, Xing or email (info@mee ... cpp.com).
Interested in recruiting? Read more about the Meeting C++ recruiting services.
Wednesday event, 29th June (evening Europe / noon America / night Asia)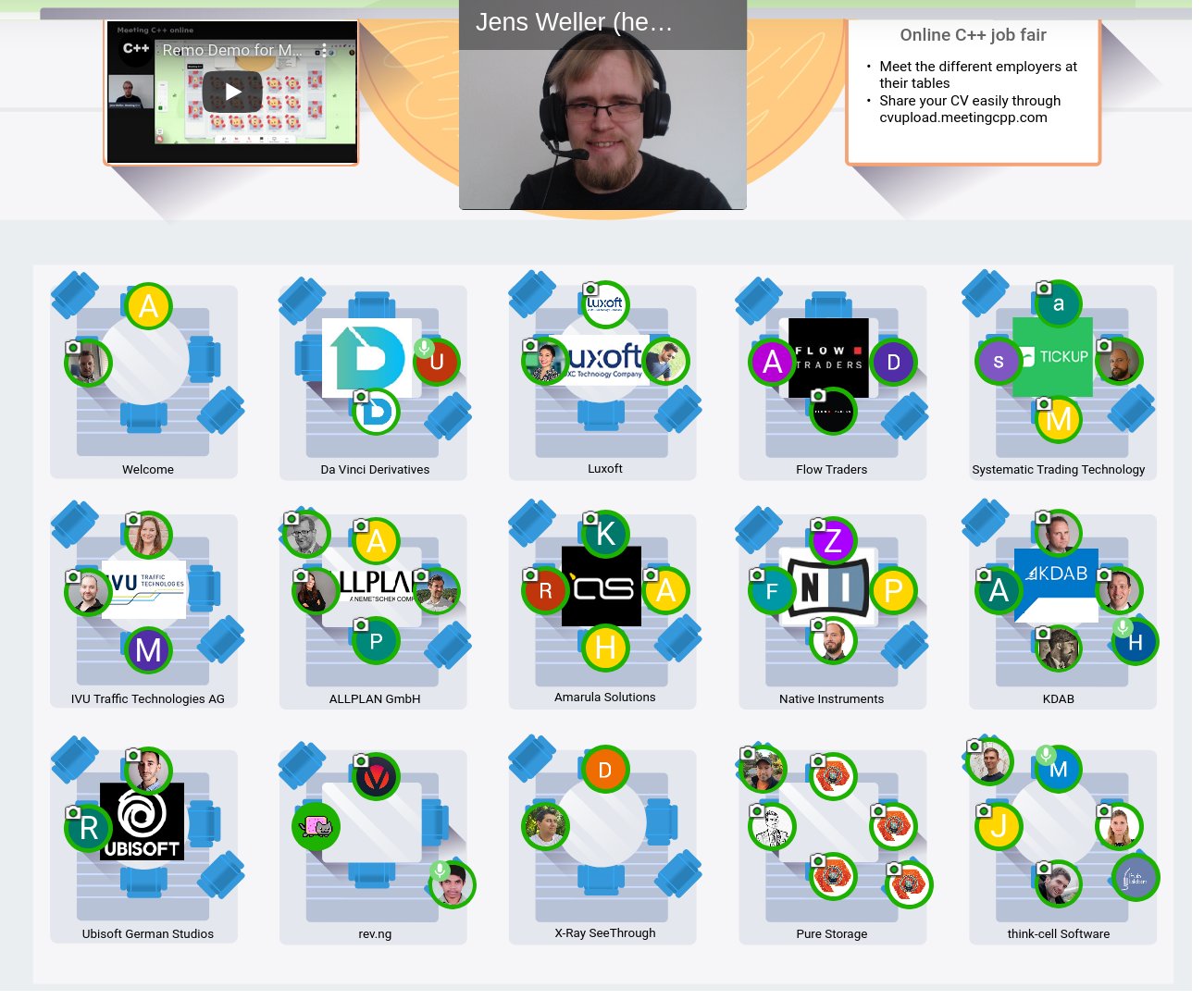 Employers should register for a sponsored table. Share your CV through the Meeting C++ upload form with the C++ employers below:
Join the job fair via this link
C++ Employers sponsoring this event
You can share your CV through the Meeting C++ upload form with the above employers
LUMICKS
LUMICKS about (Relocation: International / Remote: Country)
LUMICKS - Amsterdam
Description: Software engineers at LUMICKS write the code behind two of the most exciting instruments in life sciences, C-Trap and z-Movi. C-Trap helps scientists to understand fundamental biological processes by visualizing and manipulating single molecules of DNA and proteins. z-Movi is a unique immunology tool which uses acoustic waves to allow researchers to understand how immune cells interact with cancers on a single cell level.
As a team we are responsible for the full software stack that powers our instruments, from data acquisition and processing through to the analysis software used by scientists in laboratories across the world. We bring it all together with intuitive user interfaces so our customers can focus on the experiment they want to perform, not the complex hardware and analysis underneath. We care deeply about providing our users with easy-to-use, reliable software that actively supports Open Data and Reproducible Science.
As a software engineer at LUMICKS you'll get the opportunity to work alongside a range of other disciplines including biologists, immunologists, and mechanical and electronics engineers as we continue to develop our instruments towards our goal of improving human health.
We are currently looking to fill the following roles:
Location: Amsterdam, NL
Remote: Access to the hardware in our Amsterdam HQ is important, so generally not, but flexible arrangements are definitely considered.
Visa Sponsorship: Yes, including relocation package where required
Technologies: C++20 for our core codebase, Qt (QML) for the UI, and Python 3 for automation and analysis.
CMake builds everything and Conan manages our dependencies. Libraries we use include abseil, asio, caf (C++ actor framework), catch2, cereal, fmt, opencv, pybind11, ranges-v3 and spdlog.
Employers present with their own table
Guidelines during the job fair
Be friendly to everyone
Visit the tables of employers you are interested in
You can hang out at any table, maximum is 6 folks at one table.
About the online platform used
The event consists of a number of virtual rooms shown as graphics in its UI
Attendees are able to freely switch between these
Each room can be representing one potential employer
The event runs in the browser, no client software needed. Allow access to webcam and mic to communicate.
For employers
An employer should have a table named after their company
Employers must register for a sponsored table in the event.
Attendees will be able to find you at a table and start a video chat with you
Please book your table early!
For job seekers
The event is free to attend, bring your materials and chat to potential employers via video call or chat
No registration is needed, you can join any time and visit the different companies.
The link to the event will be visible in the Meetup Group and shared by Meeting C++ on social media
All events of Meeting C++ online are hosted under the Berlin Code of Conduct