Join the online C++ job fair on the 28th and 29th June organized by Meeting C++. The job fair will start at 15:00 CET and go until 18:00 on June 28th, on June 29th the event will be in the evening from 20 - 23:00 CET. Companies can choose to be present on both or only one of these events, or to only receive CVs through Meeting C++.
The job fair is an online event where employers and C++ job seekers get to meet each other. Candidates get the chance to get a first feel of a potential employer, and can exchange contacts with those that they'd like to apply to. Employers should book their own table and be present with one or multiple staff.
Join the Meeting C++ online User Group for further details for the events. Link to the events will be shared here and on meetup close to the event start for attendees!
If you have any questions about hiring with Meeting C++ please reach out via LinkedIn, Xing or email (info@mee ... cpp.com).
Interested in recruiting? Read more about the Meeting C++ recruiting services.
Wednesday event, 29th June (evening Europe / noon America / night Asia)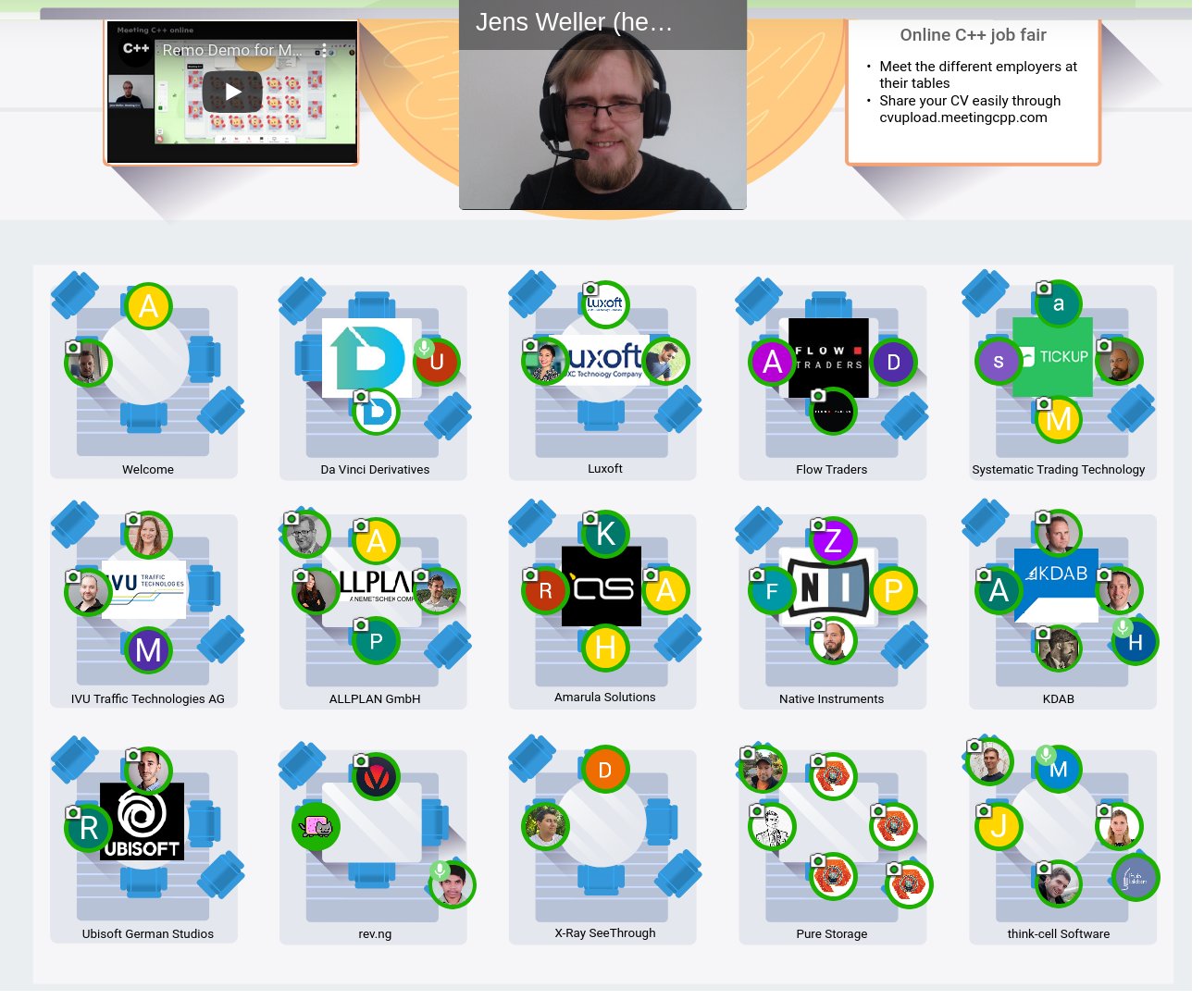 Employers should register for a sponsored table. Share your CV through the Meeting C++ upload form with the C++ employers below:
Join the job fair via this link
C++ Employers sponsoring this event
You can share your CV through the Meeting C++ upload form with the above employers
KDAB
KDAB about (Relocation: International / Remote: International)
Although all of our engineers are highly qualified, in KDAB we value practical software development experience and skills higher than academic degrees, so even if you don't have a Masters Degree in computing, you can still contact us if you:
- are an outstanding software developer with several years of experience in Qt, embedded systems, mobile devices, or 3D graphics (any combination of the latter three with Qt is a big plus)
- are willing to work hard on challenging software projects for demanding clients with tight deadlines
- speak, read and write English fluently (we do not require perfect grammar nor a large vocabulary, but you must be able to communicate in English effortlessly)
- are willing to work in a multicultural workforce, have a high tolerance for other people being different, and are not easily offended
- can stand being made fun of in good faith by your coworkers (and maybe even enjoy making fun of your coworkers, too)
- are willing to travel regularly.
Particular pluses would be:
- working experience in commercial software development
- very good language skills in French or German
- experience in embedded systems, mobile devices, or 3D graphics
- experience with modern version control systems such as Subversion and git
- experience with modern issue tracking systems such as Jira
- experience with software development on MS Windows, Unix/Linux, and Mac OS X
- software project management experience.
Find out more on our web page below.
Employers present with their own table
Guidelines during the job fair
Be friendly to everyone
Visit the tables of employers you are interested in
You can hang out at any table, maximum is 6 folks at one table.
About the online platform used
The event consists of a number of virtual rooms shown as graphics in its UI
Attendees are able to freely switch between these
Each room can be representing one potential employer
The event runs in the browser, no client software needed. Allow access to webcam and mic to communicate.
For employers
An employer should have a table named after their company
Employers must register for a sponsored table in the event.
Attendees will be able to find you at a table and start a video chat with you
Please book your table early!
For job seekers
The event is free to attend, bring your materials and chat to potential employers via video call or chat
No registration is needed, you can join any time and visit the different companies.
The link to the event will be visible in the Meetup Group and shared by Meeting C++ on social media
All events of Meeting C++ online are hosted under the Berlin Code of Conduct