The first gold sponsor: Vector
published at 27.06.2017 16:03 by Jens Weller
The first company to become a sponsor for this years conference is Vector, an embedded and automotive software company from Stuttgart, Germany: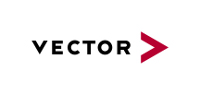 Thanks so much to Vector for supporting this years conference and the work of Meeting C++ for C++ and its community!
A short introduction in their own words:
Vector Informatik is the leading manufacturer of software tools and embedded components for the development of electronic systems and their networking with many different systems from CAN to Automotive Ethernet.
Join the Meeting C++ patreon community!
This and other posts on Meeting C++ are enabled by my supporters on patreon!