Luxoft joins the Gold Sponsors
published at 03.11.2017 16:41
Happy to announce the last and final sponsor for this years conference: Luxoft suprisingly joins in a last minute effort the sponsors!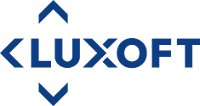 They will also be present with a booth on floor 1, but only on the first two days! Luxoft has a focus on automotive software and is present in Berlin, Munich and Stuttgart, working with suppliers and auto companies.
In their own words:
Luxoft Holding, Inc. (NYSE:LXFT) a leading provider of software development services and innovative IT solutions to a global client base consisting primarily of large, multinational corporations predominantly in Europe, North America and Asia Pacific. The Company's software development services consist of core and mission critical custom software development and support, product engineering, and technology consulting. Its bespoke solutions include technology architecture selection and other consulting, proprietary products and/or standard system software and platforms, as well as implementation and maintenance. Through its services and solutions, the Company helps its clients improve their competitive position by increasing efficiency, optimizing costs, and enabling changes through disruptive digital technologies that enhance end-user experience and shorten time-to-market. The Company develops its solutions and delivers its services from 37 dedicated delivery centers worldwide. It has more than 12,800 employees across 42 offices in 21 countries within five continents – North America, Europe, Africa, Asia, and Australia. Luxoft has its operating headquarters office in Zug, Switzerland and is listed on the New York Stock Exchange. For more information, please visit http://www.luxoft.com.
Join the Meeting C++ patreon community!
This and other posts on Meeting C++ are enabled by my supporters on patreon!